Exhibitor Spotlight: Paws & Pints, LLC
If anything can bring some additional cuteness to the 2020 Des Moines Home + Garden Show, it's furry little friends! And that's just what you'll get with Paws & Pints, one of this year's exhibitors who will be at the show to talk about their upcoming facility that offers convenience, fun and bonding time for dogs and their owners. One of the founders, Megan Casey, provides us with a little more insight into Paws & Pints and the exciting opportunities coming up in 2020.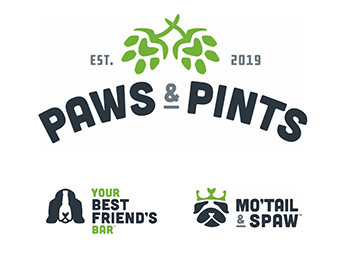 Tell us a little bit more about Paws & Pints.
Paws & Pints will be Central Iowa's, "Ultimate Canine-Retreat." There are two major components to our business:
Your Best Friend's Bar will be a place where you and your four-legged companions can enjoy both an indoor and outdoor off-leash dog park that features a full bar and coffeehouse along with lots of fun things to do for you and your dog.
In addition to over 4.5 acres of dog park space, the Mo'Tail & Spaw will include all your doggie-related services such as: Boarding, Daycare, Grooming, Retail and The Canine Kitchen.
Dog training will also be available and sharing a wall with Paws & Pints will be an on-site Veterinary Clinic.
What was the inspiration behind Paws & Pints?
The true inspiration is our dogs but also the love of taking them with us when we go places. We first ran across a dog-bar concept while traveling in Denver with our first Bernese Mountain Dog, Kora. We were in true disbelief at how simple it was but also how busy and consistently busy.
And as dog parents of four dogs, all with some similar needs but some with very different ones, we know the importance, firsthand, of what all goes into owning a dog. Currently we travel all around town to go to the vet, their favorite dog stores, training, grooming, etc. The goal is to be able to do all this with one membership, at one place.
How can attendees interact with you at the Des Moines Home & Garden Show?
Paws & Pints will be at Booth #223, come meet the crew and our dogs. We will have some fun things to do, free giveaways, door prizes and more. All of our brand-new facility's renderings will be on display along with some videos and other visuals to look at to better understand the concept.
We will have lots of merchandise available, some sample menus so you can get a great feel on all the services we will provide along with membership information so you can see what's included.
Kai's Dog Training will be on-site as well to answer any questions and you can hear a little about their techniques.
Be sure to follow Paws & Pints! You can check them out at
www.pawsandpintsdsm.com
or watch for news and updates on Facebook or Instagram.
Don't forget to come visit them, Booth #223, at the Des Moines Home + Garden Show! The show runs February 6—9, 2020, at the Iowa Events Center. You can save $2 if you purchase tickets online.
Jan 24, 2020, 22:18 PM