Exhibitor Spotlight: Better Builders and Wright Outdoor Solutions
People are increasingly trying to find opportunities to spend more time outside and make their outdoor area an extension of their home. Lucky for you, we had the chance to chat with Demir Miljkovic of Better Builders, and Kim Rieber of Wright Outdoor Solutions (exhibitors at the 2020 Des Moines Home + Garden Show) about some of the trends they are seeing with outdoor living spaces.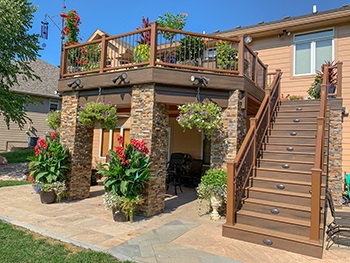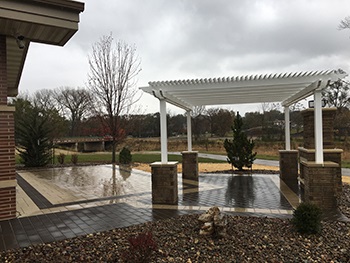 What will be the main features at your booth this year?
We are incorporating a "she shed" in our design that will have attached rounded edge TimberTech deck. Our partners at Wright Outdoor Solutions are adding lots of floral colors and some beautiful modern pavers with a new twist on planter displays. We will also be trying to incorporate a water feature.
What are some of the trends you're starting to see when it comes to outdoor living spaces?
Many of our clients are looking to extend their usable outdoor entertainment time by adding features like radiant outdoor heaters, audio and fireplaces. Some other trends that are emerging and will continue to draw interest in the next year are board bending techniques to create rounded edges, different width deck boards, basketball courts, and a lot of beautiful new product colors and designs. We've continued to build a lot of covered decks on houses that were built without them and have also found that glass railing is here to stay with additional manufacturers coming out with unique options.
As Wright Outdoor Solutions and Better Builders have partnered together throughout the year, we have seen an increase in pool pavilions and pergolas. While the radiant heaters are great for the winter, the shelter from the sun in the summer months has also been a popular option. Additionally, adding full kitchens outside has continued to be a popular item for us by allowing our clients to stay in their entertainment area without having to go inside for cooking or refreshments.
How can people extend their outdoor living time?
In one of our blog posts, we talked about how to enjoy your outdoor space in spite of the unpredictable four seasons that Iowa offers. We mentioned a few features above—covered deck, radiant outdoor heaters and outdoor kitchens.
Additionally, adding a firepit or fireplace along with tall evergreen plants for privacy and wind screen, can help make enjoying the outdoors more comfortable. While swimming pools are perfect for the warmer summer months, hot tubs can be used all year-round.
Check them out!
For more information or to get some inspiration for your home, be sure to come to the 2020 Des Moines Home & Garden Show at the Iowa Events Center! It runs February 6—9, 2020, and you can get your tickets online or at the door!
You can also learn more about Better Builders or Wright Outdoor Solutions by checking out their websites or following them on social media.
Better Builders
Facebook
Instagram
Wright Outdoor Solutions
Facebook
Jan 17, 2020, 16:00 PM